Sunnyvale High School

In Memory
James Hidalgo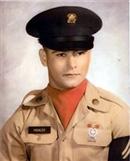 James M. HidalgoJames M. Hidalgo




Aug. 9, 1948 – Sept. 17, 2014




Resident of Sunnyvale




Great husband and father. Survived by wife Emily and sons James and William. James loved to race go carts and still holds track and field records at Sunnyvale High School. He was an

army

veteran and enjoyed the outdoors with his family.