Sunnyvale High School

Mariani's
It all began here, the Friday night before the 35th reunion picnic, August 2002.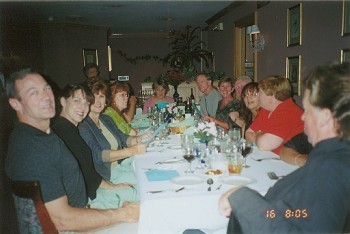 v
The tradition of meeting yearly at Mariani's in Santa Clara began in 2002. The Friday night dinner before the 35th reunion was held there. We had such a good time and enjoyed being together so much that we decided we needed to get together more often than every five years! Actually, the suggestion came from Tom Sanders. It started out as a local thing and is now an invite all and it gets bigger every year! Following is a litte taste of some of the fun times we've had!

In the process of giving each Mariani's year it's own page, via the dropdown menu. Please pardon my slowness in doing so....:)
click the arrow if you want music...
2011
Many thanks to Malcolm for the following additional chronicles of the 2010 party. We appreciate very much his time and committment to our class and it's memories.
08