Sunnyvale High School

Honors & Tributes
HONORS AND TRIBUTES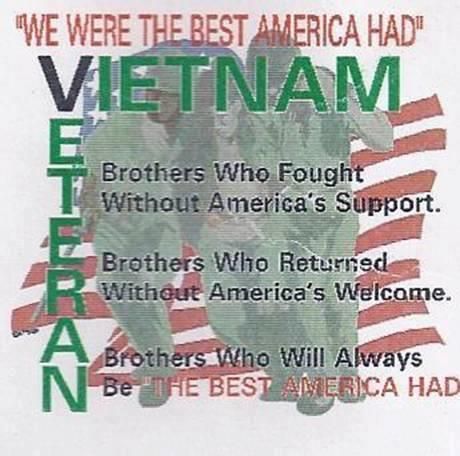 This page is dedicated to the classmates that have served in the armed forces and to those that have lost their lives in the service to our country. It is my honor and privilege to be creating this page. Of course, none of this would have been possible without the classmates that have given their time and valuable information. We all admit there are many more names that should be included on this page and I would like to request that if any of you know of someone that should be acknowledged here please let us know. Also, as much of this information is recollection, if there are errors please contact us so that we may have an accurate site. In addition, any and all information that can enhance this page only adds to the honor that is due to these people. Thank you.

Betty Giroux Kootnikoff

Click on the above
Thank you Joe Johnson for the link to the POW/MIA Personnel Office and thank you for the link below
U.S. Army Vietnam
Bruce Fuller - PFC - E3 - Army - Regular - 101st Airborne Division

Length of service 0 years
His tour began on Dec 29, 1967
Casualty was on Feb 18, 1968
In PHUOC LONG, SOUTH VIETNAM
HOSTILE, GROUND CASUALTY
GUN, SMALL ARMS FIRE
Body was recovered

Panel 40E - Line 5

Details provided by the Vietnam Memorial Wall WebsiteBruce Fuller http://thewall-usa.com/info.asp?recid=17420
Thomas Horal - PFC - E3 - Army - Selective Service 4th Infantry Division
Length of service 0 years
His tour began on May 3, 1969Casualty was on Jun 5, 1969
In KONTUM, SOUTH VIETNAM
hostle, ground casualty
multiple fragmentation wounds
body was recovered
Panel 23W - Line 74
Details provided by the Vietnam Memorial Wall Website.
Thomas Horal - http://thewall-usa.com/info.asp?recid=24113
Rest easy, sleep well my brothers.
Know the line has held, your job is done.
Rest easy, sleep well.
Others have taken up where you fell, the line has held.
Peace, peace and farewell.
Mario Ebangi
Drafted 1968, stationed in Germany Honorable Discharge, 1970
Joe Johnson
Joe was in the Army 4 years (1968-1972)
1 Purple Heart 2 service Medals with V' for Valor
Vietnam, 1 1/2 years (Combat Engineer)
Germany 13 Months
Basic Training=Fort Lewis
AIT=Fort Lee ,Va. & Fort Leonardwood,Missouri
Also stationed in Fort Bliss, Texas
Tom Sanders
U.S. Army (Drafted)
1969 to 1971
Sergeant E-5
199th Light Infantry Brigade
5/2 Artillery
IV Corps South Vietnam
Tom provided the following picture taken in early 1970
'Dressed And Going Home'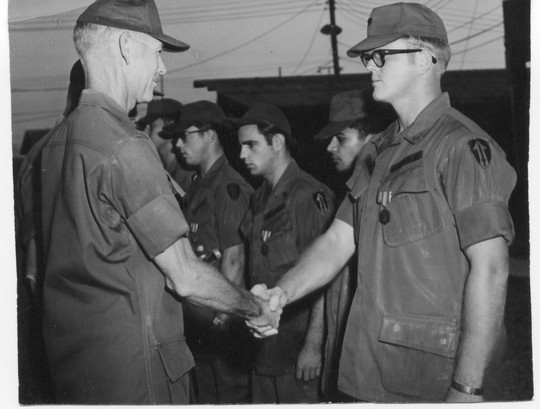 Kevin Kelly - Also see Marine Corp - Vietnam below
Bobby McKee
US rank of SP-5 and was honorably discharged in 1974.
Army paratrooper in the 82d Airborne Division (1971-1974) stationed at Ft. Bragg, North Carolina - did not go to Vietnam. Bobby achieved the
Mike Murray, Class of 66
U.S. Marines Vietnam
Louie Alicea- US Marine Corps 1967-1969 (Hawaii,Okinawa,Viet Nam,Guam).
United States Marine Corps
Rank - Corporal
MOS - 0351 Rockets, Machine Gun Squad Leader in Vietnam
Aug 1967 - March 1969
Vietnam Tour -January 1968 - February 1969 ( Tet Offensive )
Tour Stops: Hawaii, Okinawa, GuamIwo Jima Naval Air Craft Carrier- Float Phase Airlifts to Operations in the south sector of the DMZ. Camp Carrol , Con Thien, and road/rivers to Khe San.
Vietnam Operations in: Quang Tri, Quang Nam, DMZ, Elephant Valley, DaNang, Borders of Cambodia and Laos. Search and Distroy missions in between.
An experience you never forget. My first sixth months was Hell. We were young men living each day to survive and protecting each other to see another day. We were trained in survival and I did what I had to do to survive. I was wounded in action within the first 6 months of my tour, and received a Purple Heart, and was awarded the Navy Achievement Medal w/Combat "V".
Getting wounded was a wake up call for me. I was so confident that nothing would happen to me. Then I became angry, cautious, and afraid. I wanted to make it home. Those 3 weeks in the hospital gave me time to think about what was really happening. My squad leader was killed when I was wounded, and 30 others were wounded in a 2 day period. I can remember waking up the next morning in the DaNang Hospital and seeing fellow marines from my unit in the rows of beds next to me. I was Lucky !
Years ago, I visited the Viet Nam Wall in Washington D.C. It was hard to see some of my Marine friends on that wall. I prayed we would never have another Viet Nam in our life.
My brother the teacher ( John the "Jet ") use to have me give a presentation on my experiences in the Marine Corps, and Viet Nam to his class.
I have a beautiful family, and that is what life's all about for me.
John Cardiel and I have a special bond that is so great. We have experienced so much together. Childhood, school, Marine Corps, HP employment, family, traveling, and sports activities. We live about a mile from each other and get together regularly.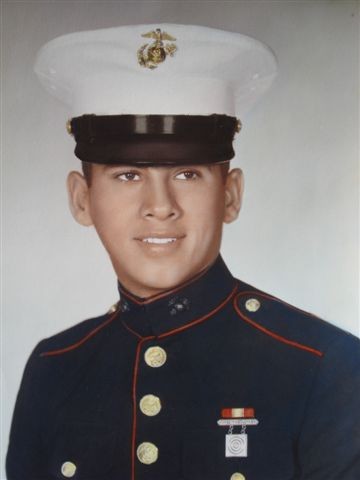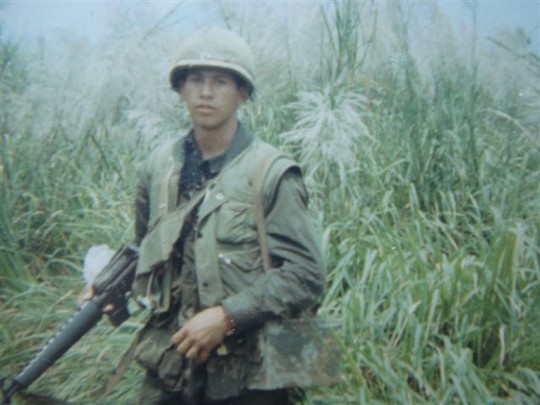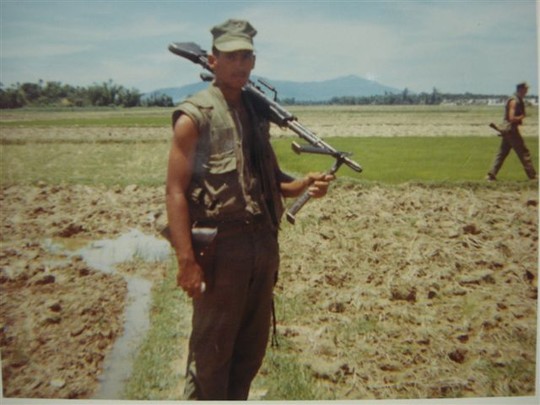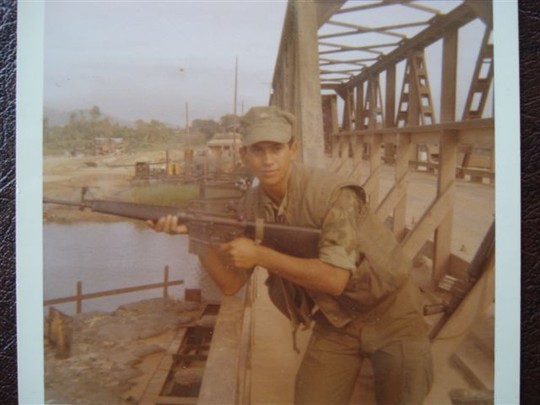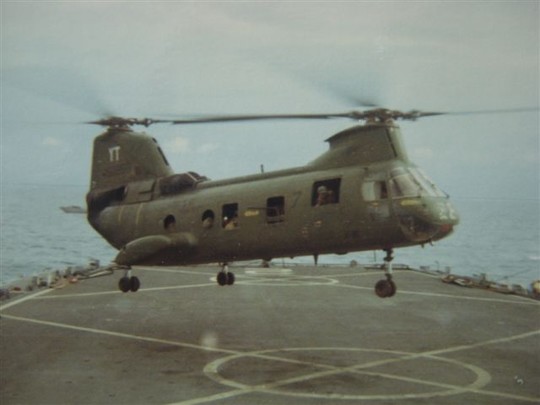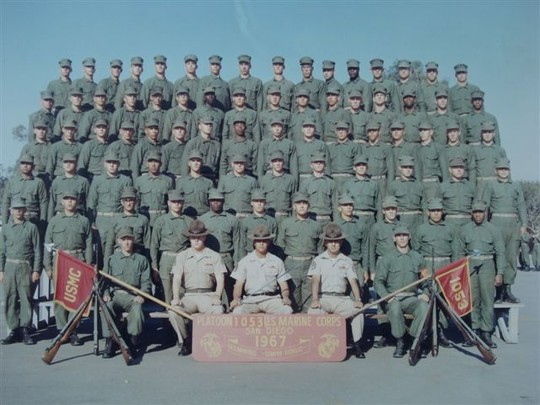 Ted Brown - United States Marine Corps 1971-1975 - Airborne Radio OP/Loamaster on KC130's
(See Tony Saracino's comments below.)
Tony Saracino - I served from 1971 to 1975. Went in on the "buddy" system with Ted Brown, and we went
through boot camp, AIT, and had the same MOS. We were Airborne radio operators and loadmasters on KC-130F's.
Was stationed with all 3 Marine Air Wings, spent 1 year stationed in the Far East.

Honorable discharge as a Staff Sergeant.
Walter Carter -
Although Walter was in our class he did not graduate with us. We think he left Sunnyvale High after his Junior year and joined the Marines thereafter.

We believe Walter died while still in the United States. Tony Saracino recollects that he was in a car accident prior to 1970.

If anyone can confirm this information or can add any information on Walter please let us know.
Johnny Cardiel - Enlisted in the U.S. Marines in 1967 with fellow classmate Louie Alicea. We both went to Viet Nam. Lou spent a comlete tour. I was there for a short time. Both of us were wounded in action. Happy to say returned and doing fine.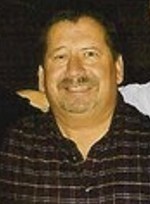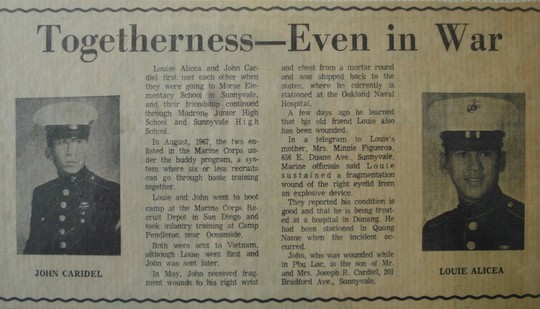 Jeff Davis - Marine Corps 1968 - 1971
Sept 1968 entered the Marines. Jeff served in Okinawa from 1969 to 1970 and Viet Nam 1970 to 1971.
June of 1971 he was honorably discharged as a sargent.
Kevin Kelly - Marine Corps 1967-71

(El Toro MCAS,California Iwakuni,Japan/Chu Lai,Vietnam)
-Rifleman, Avionics Tech-
Deputy Sheriff Sgt Idaho 1971-79
(Ada County, Boise)
Idaho National Guard 1971-1979
-Armored Scout Vehicle Commander-
US Army 1979-1997 (retired 28yrs)
(Alabama,Maryland,New Hampshire Texas,Germany,Italy,Honduras,El Salvador,Colombia,Panama,Somalia Kenya,Bosnia,Macedonia,Puerto Rico, Haiti and Dominican Republic)
-Helicopter AeroScout Pilot, Helicopter Instructor Pilot, Fixed Wing Instructor Pilot-
Flight Safety International 1997-
(Dothan,Daleville, Alabama)
-Fixed Wing Multi-engine Flight Instructor to US Army-
-CFII,Helicopter&Airplane, ATP/Heavy Multi-engine Airplane, CFI,MEL&SEL Commercial MEL&SEL-
U.S. Air Force
Mike Arredondo -
I was in the USAF for 3 years, 9 months and 3 days, from Sept. 1, 1970 to June 3, 1974. That was exactly 3 years 9 months and 2 days too long. More then enough time to make me appreciate the value of a college education.
Dick Singer
(Dick this was too well said not to include verbatim) - "I was in the USAFSS, which is the Security Service branch of the Air Force. The security service is the "Intelligence" branch of the USAF. (I always like to mention that for those folks that figured I had little or no intelligence in me. ;)
Anyway, I trained for 7 months at Goodfellow AFB in San Angelo, Texas. From there I spent a little less than two years working at NSA (National Security Agency) in Washington DC. Actually, the agency is located outside of DC in Laurel Maryland on Fort Meade (Headquarter of the 1st Army). From there I went to Shemya, Alaska. Shemya (pronounced Shemia) is on the very tip of the Aleutian Island chain
which separates the Pacific Ocean from the Bering Sea. We were 180 miles from the Kamchatka Peninsula of Russia. Average temps were between 20-40 degrees F. There were 1500 guys and no dependents (wives and kids) and during the time I was there, they did not send women to the barren tundra-covered rock. A few years later they did start giving women the equal rights they had been asking for... poor gals."
Dick is still trying to find a picture of himself with a few buddies down at the beach one sunny summer day when the temp got up to 44 degrees.
He managed to find this one image until the 'summer picture' surfaces. Dick relaxing after some 'vigorous training'.
Some things never change!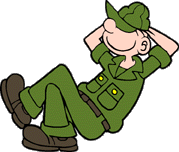 Ray Rice
Enlisted in Air Force 1968. Assigned to Korea (twice), Okinawa,Japan, Alaska, Georgia, Washington and California. Retired Master Sargeant in California.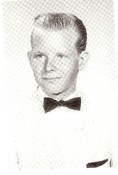 U.S. Navy
Drew Beck - Joined the USNR on April 1, 1969, 14 months on active reserves (weedknd drills once a month), then went on active duty in June of 1970. served 21 months of active duty, then received a 3 month early discharge to return to school.
Charles Brandau
Dave Christian
Joined the USNR on April 1, 1969. We served 1 year and 2 months as active reserves (weekend drills once a month), and then went on active duty in June of 1970. The rest of us served 21 months of active duty, then received a 3 month early out to return to school. Drew Beck, Lynn Toshi and Mike England and I all joined the USNR on April 1, 1969.
Jan Dawson
Joined the Navy in 1969: Boot Camp in San Diego, CA.
Graduated from Electronics Mechanics 'A' School, San Francisco (Treasure Island), 1971; graduated from Submarine School in New London (Groton) CT, 1971, attended Electronics Eqpt Surveillance 'B' School, 1971-1972. (Top secret clearance—basically, I was to become a spy.) I got out of Submarine duty and was sent to Surface-craft Warfare duty. Eventually, I was stationed aboard U.S.S. Truxtun (DLGN-35), Long Beach, CA. Duties included Electronics Tech for Nav. Radar & peripheral gear, c.c.-radio Mgr, duty-section Petty Officer of the Watch at port-of-calls. Two tours of Viet Nam (Gulf of Tonkin), 1972-1973. Mission: Recon downed pilots, dir. B-52's into Hanoi, and Naval Gun Support. Several awards given to ship and to me: Viet Nam Service (w/2nd service star*), Viet Nam Campaign (w/service star*), Navy Unit Citation, Overseas Service, Nat'l Defense & Good Conduct medals. I engaged in the "crossing the line" ceremonies in 1973 to become a Shellback. (Shellback is a member of the Naval Services that has crossed the equator.) At end of my 2nd tour, the ship returned to Long Beach, CA (briefly), then went to Bremerton, WA Naval Shipyard (dry-dock) for overhaul/conversion (to CGN-35), 1974-75. In addition, I attended Loran- "C" Navy Eqpt 'C' School, Norfolk, VA. The Truxtun was re-home-ported to Naval Station San Diego in 1975 and I was discharged. Honorable Discharge, Dec. 14, 1975.
Several years later, I joined the Navy Reserve. I qualified as Reserve Firefighter. Eventually, I worked with the Seabees. (I qualified as "Marksman" 1st time out on M-16 rifle!) I received 2 "Outstanding Fitness" Awards for my age category. Our Unit was awarded the Operation Desert Shield Campaign (1st Gulf War) ribbon. I got three honorable discharges from the Reserves, at 2 years a piece. Final discharge was in 1992. (*to be verified w/mil. rec)
"It's more than a job, it's an adventure…."
Jan the man

Mike England -

Joined the USNR on April 1, 1969, 14 m

onths on active reserves (weekend drills once a month), then went on active duty in June of 1970

. Mike served 1 year active duty as his ship was decommissioned and he received an early discharge.
Sheldon McCormick - See Larry White's comments below.

In October of 1968 I joined the Navy with Larry White after boot camp I went to Avionics A School in Millington Tennessee. Then was Stationed at NAS Barbers Point Hawaii for Two and half years. Was then Stationed as a AT(Aviation Electronic Technician) with Tactical Electronic Warfare Squadron VAQ-135 Det4 at NAS Alameda CA. We deployed to the USS John F. Kennedy CVA67 for a Med Cruse. As a "I" level AT I worked on the EKA-3B Sky Warrior aircraft as a green shirt on the flight deck. I reenlisted while in the Med. for orders to VP-19 out of NAS Moffett Field made two deployments with VP-19 To Naha, Okinawa in 1973 and in 1974-75 was n TAD To Utapao Thailand while the squadron was deployed to Cubi Philippines. After my deployment to Naha I change my rate from AT To AX(Aviation Antisubmarine Warfare Technician) In 1975 I was transfer to COMPACWINGSPAC Tactical Support Center at NAS Moffitt Field worked their until I got out in 1978.
Mitch Myers - US Navy 1968 - 1972 Corpus Cristy Texas (two y

ears), West PAC on the USS Ticonderoga Carrier deployed HS-8 Air Squadron out of Imperial Beach, California
Lynn Toschi -
Joined the USNR on April 1, 1969, 14 months

on

active reserves (weekend drills once a month), then went on active duty in June of 1970

,

served 21 months of active duty, then received a 3 month early discharge to return to school.
Larry White
Larry joined the N

avy along with Sheldon McCormack in October of 1968 and went to "A"

School

in Lakehu

r

st, NJ. Then spent 1969 in Alameda Air Station and commuted home. Then 1970-71 was a year in Cubi Point Air Station, Philippines in a Crash and rescue

team. Then my last year in the Navy was a tour on an Aircraft Carrier, Saratoga CVA 60 and we went to Viet Nam. Honorable discharge in 1972.
I mostly fought fires rather than people. Aircraft crash and rescue and worked on the flight deck as a blue shirt - ran the deck-edge elevators and assisted in Flight Deck Control.
Tom Hutchens

Sheldon McCormack






The Nurse's Memorial at Arlington Cemetery
This memorial represents the nurses that served from all branches of the armed forces.
The Vietnam Veteran's Memorial,
The Wall-USA
The Vietnam Veterans Memorial Wall USA website is dedicated to honoring those who died in the Vietnam War. Since it first went on line in 1996 it has evolved into something more. It is now also a place of healing for those affected by one of the most divisive wars in our nation's history.
"If you are able, save for them a place inside of you and save one backward glance when you are leaving for the places they can no longer go.

Be not ashamed to say you loved them, though you may or may not have always. Take what they have taught you with their dying and keep it with your own.

And in that time when men decide and feel safe to call the war insane, take one moment to embrace those gentle heroes you left behind.

Major Michael Davis O'Donnell
1 January 1970
Dak To, Vietnam
Listed as KIA February 7, 1978
Image and quote used with the permission of the Library of Congress
Remembering, Tribute to Veterans
Please take a few moments from your busy day to pause, reflect, and thank those who have served and are serving our country. Although this page is dedicated to veterans of our Armed Services, almost every American family, many without donning a uniform, has contributed to the preservation of the ideals of the United States of America. "Rosie the Riveter" serves as a symbol of all those who stayed behind during World War II. Mom may have helped at the Red Cross or USO, and rolled bandages at home. School girls and boys knit scarves, socks, and mittens for the men on the front, and collected milkweed pods for life jacket fill. From the American Revolution to today's War on Terrorism, many are the untold stories and many are the unsung heroes.
Today we ask that you remember all those currently in the service of the United States and all her allies. While military conflicts are never easy to accept, neither are the denial of basic human rights. Whatever your opinions or beliefs, RESPECT and HONOR those who are answering the call to serve their country.
Included with the kind permission of the authors of Cape Cod Mouse web site: http://www.capecodmouse.com/
Santa Clara Veterans Memorial

santaclaraveteransmemorial.org
It was suggested by Joe Johnson that classmates from other grades be included on this page. We would be honored to include those fellow Sunnyvale High School students on this page. We have all attended the same school and become friends spanning all grades, we felt we should honor them on this site as well. Should any of you wish to include a fellow Sunnyvale High School veteran please notify me and I will be happy to include them here.




Click here to go to top.