Sunnyvale High School

In Memory
Richard Alderete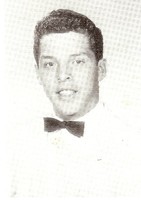 Richard Alderete
Resident of Sunnyvale
Born February 27, 1949. He succumbed to cancer and passed quietly at El Camino Hospital on May 27, 2011 at the age of 62.
Survived by his loving wife of 31 years, Marlene, also father of Richard Jr., Robert, Clinton, Matthew, Derek, and Ethan. Leaving his mother, Viola and two sisters and one brother. Loving grandfather to three grandsons and the only other girl in his life, his granddaughter Emberly. A friend to everyone he met, he will be missed and remembered by all his family and friends.
Everyone is welcome to attend memorial services Saturday, June 11, 2011 at 2:00 PM at Lima Family Santa Clara located at 466 N. Winchester Blvd. Food and refreshments will be served in the Maridon room , adjacent to the chapel, after the services.